· Espiche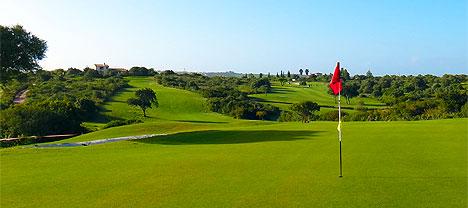 Located in the picturesque and less touristy Western Algarve, minutes from the ocean, outside the beautiful town of Lagos you'll find a spectacular and challenging golf course where nature abounds.
This challenging 18-hole, par 72 course offers superb rolling terrain that blends into the Algarve landscape. Its lakes, streams and indigenous planting add to the enrichment and biodiversity of the area. The course is surrounded by beautiful open countryside, trading the typical Portuguese golf experience of hotels and high rises for vineyards and views of the Monchique Mountains in the distance. 5,862 meters (6,411 yards) from the back tees and several other options make the course enjoyable for the casual and serious golfer alike. For those who want to sharpen up their games, our range offers grass tees.
The clubhouse is being built into the hillside, integrated into the existing landscape. Built on the site of an old Algarvian farm house the stone from the original building will be used in the lower walls of the outer structure to maintain its' sense of history. The unique design by Architect, Nadine Berger, will have terraces and lounges on two levels, a restaurant and bar area, inner patio garden, changing rooms and a reception area.
Espiche course details
Total Length ·
5,862m
5,453m
5,026m
-m
Par ·
72
Holes ·
18
Type ·
'Rolling'
Opened ·
2013
Designed By ·
Espiche location map