· San Lorenzo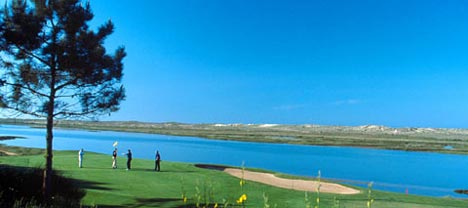 The course's rare and many-faceted beauty, matched by impeccable upkeep, make San Lorenzo a true pearl of Portuguese golf. Its eighteen widely-ranging holes run past pine trees, lakes and the beautiful beaches of the Algarve coast.
Situated in the exclusive Quinta do Lago tourist development and forming part of the Ria Formosa Natural Park, the course is demanding and imaginative. It opens with an inviting but almost unachievable par 5, and continues to the three following holes along rolling, pine-fringed fairways. It is from the 5th hole, however, that the most extraordinary part begins. offering stunning views over the beaches of the Algarve coast. At the 8th, the course turns back inland and faces the largest of its' two lakes.
For the last four holes the course again turns seawards, and finished with a par 4 whose small green is surrounded by the waters of the second lake. A remarkable end to this remarkable course that demands the use of all the clubs in the bag.
San Lorenzo course details
Total Length ·
6,145m
5,793m
5,793m
5,104m
Par ·
72
Holes ·
18
Type ·
'Rolling'
Opened ·
1998
Designed By ·
Joseph Lee
San Lorenzo location map